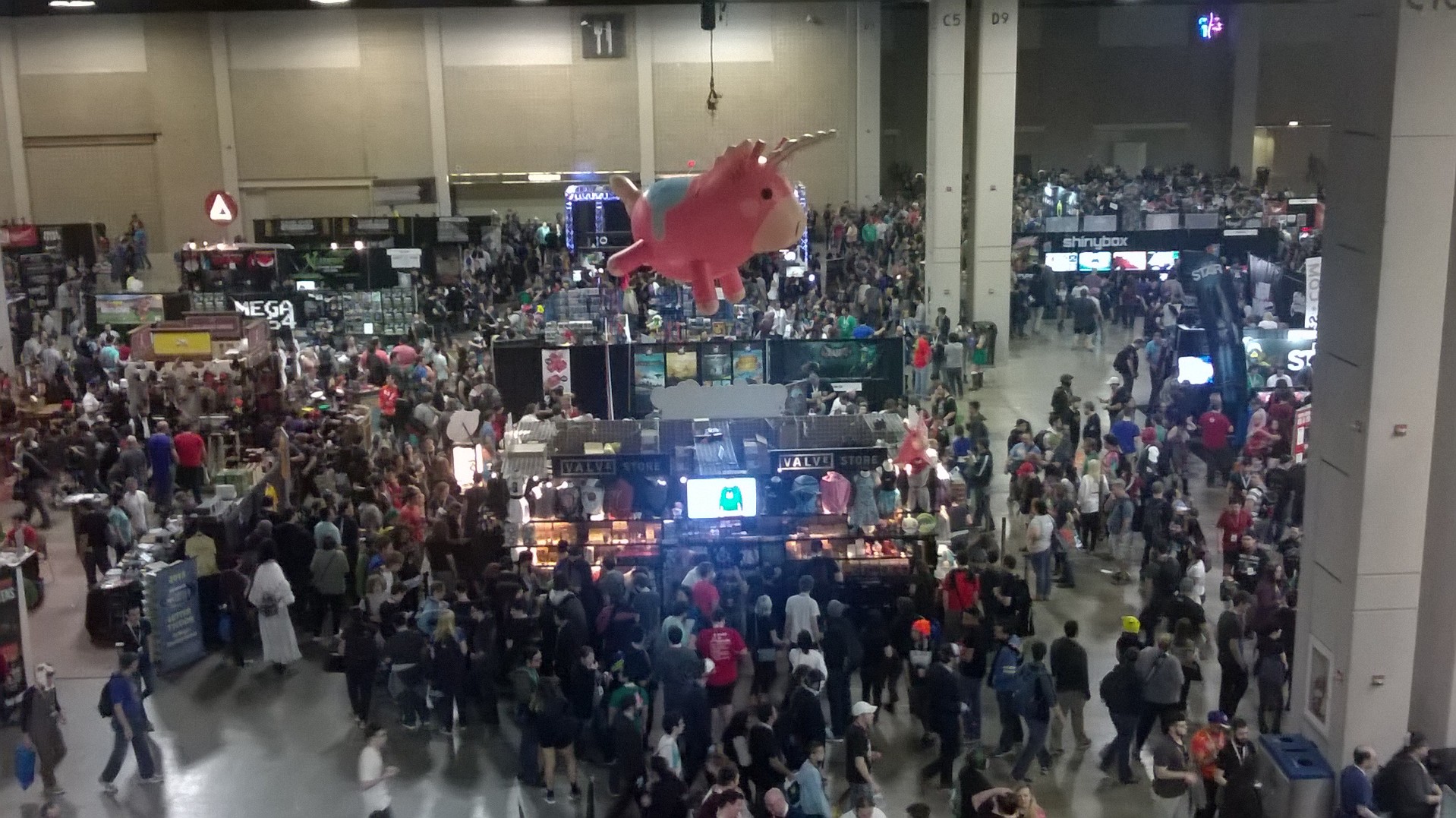 People kept referring to PAX South as 'small', but I guess it's relative! We're buried in there, somewhere under the giant pink unicorn. But let's take it back to the beginning…
Having to travel so far meant that we were on a tight budget, and were unable to afford the convenience of having our booth furnished for us. To remedy this, we paid a visit to a nearby Walmart Supercentre. On our shopping list, we had 2 tables, a big comfy chair and TV for the Xbox One build, stools and a monitor for the PC version, table cloths, hand sanitizers, and string for hanging banners. We ended up having to go to Best Buy for the monitor however. Grand total came to around $450, which is a pretty good deal! We later sold the TV to a cop for $50 after the show (true story), so around $400 all in all.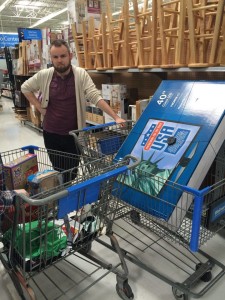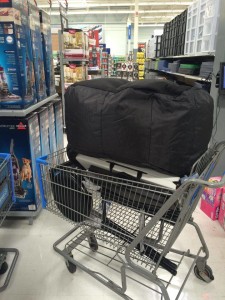 With that out of the way, we went straight to the Henry B. Gonzalez convention centre and began setting up our booth!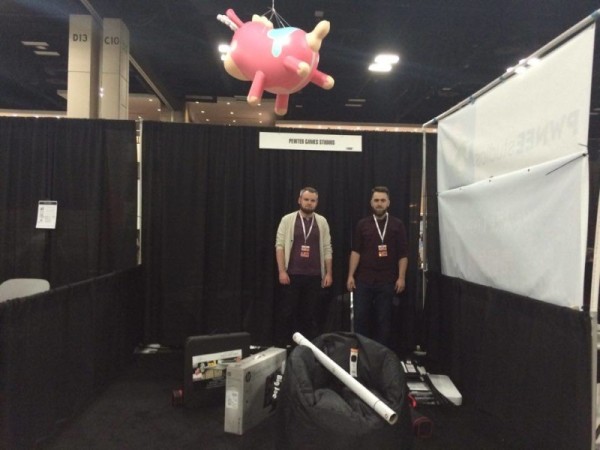 Some time later…
PAX began on the Friday, and we had a steady flow of traffic from the start. Seats were never empty, usually filled by the person who had been looking over a shoulder. Once we hit Saturday though, things got really crazy. We brought a bunch of badges (buttons/pins for you US folk), with the intention of only giving them to people who completed the whole demo, thinking most people would play a few minutes tops. Like, we had a bag of them! By early Sunday they were all gone.
It was hard to get a good picture of the booth at its busiest because we couldn't fit! People ended up sitting on the carpet to watch others play. I would say we should get more chairs in future, but with a 10 x 10 foot booth, there's not much room for it. Here's hoping to being able to justify a bigger one in the future!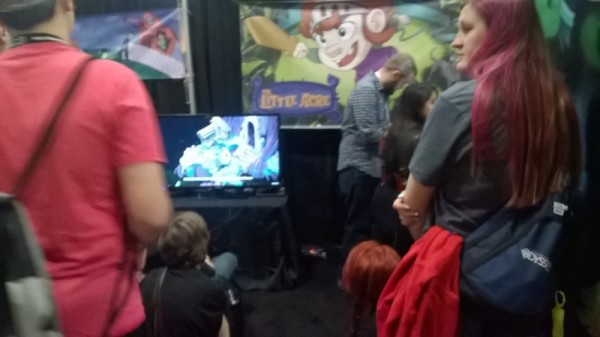 So, when Brian (AKA Terroriser) arranged a fan meet-up at our booth, things got even crazier.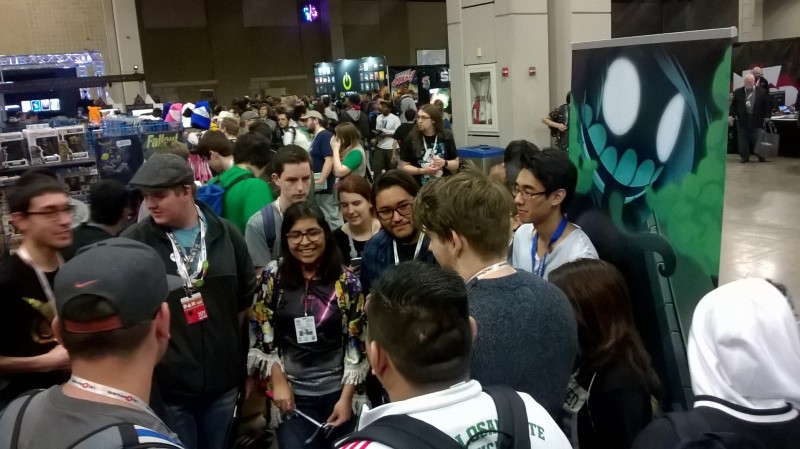 A queue started to form, and just kept getting longer. Eventually, the enforcers started placing tape on the ground to keep an orderly line which wrapped around several other booths (sorry guys!). After a while the enforcers stopped more people from joining the line.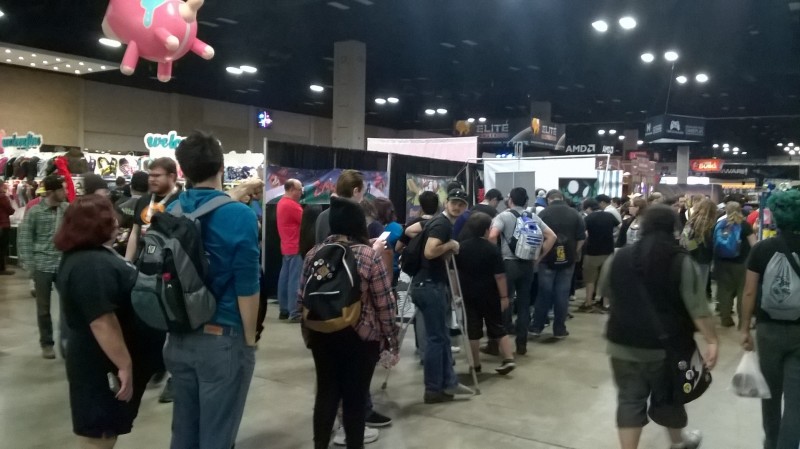 For us, one of the best highlights of the event was the live-streamed panel from the Twitch stage. We were given a 15 minute slot where we got to talk about the game, what we do, and potatoes.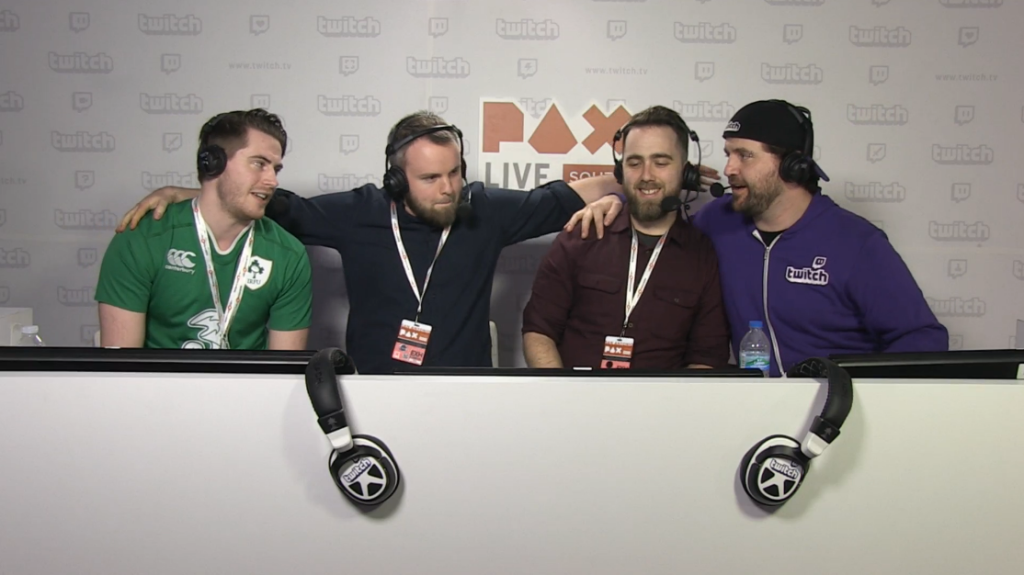 Things are getting busier and busier as we approach the release day of The Little Acre, so we're back in the office frantically trying to get everything finished. There's nothing more motivating than hundreds of people playing a demo and telling you they want more though, so to all those people – THANK YOU!!